Books
Our research program has produced four books, each of which is described below.
Baby Bust
2013 – Stewart D. Friedman
Baby Bust: New Choices for Men and Women in Work and Family.Wharton Digital Press.
Drawing on our study of two generations of Wharton college students as they graduated: Gen Xers in 1992 and Millennials in 2012, our cross-generational study produced a stark discovery – the rate of graduates who plan to have children has dropped by nearly half over the past 20 years. At the same time, we found that men and women are now more aligned in their attitudes about dual-career relationships, and they are opting out of parenthood in equal proportions. But their reasons for doing so are quite different. The book uses the unique research to explain why so many young people are not planning to become parents and reveals good news, that there is a greater freedom of choice now, and bad, that new constraints are limiting people's options.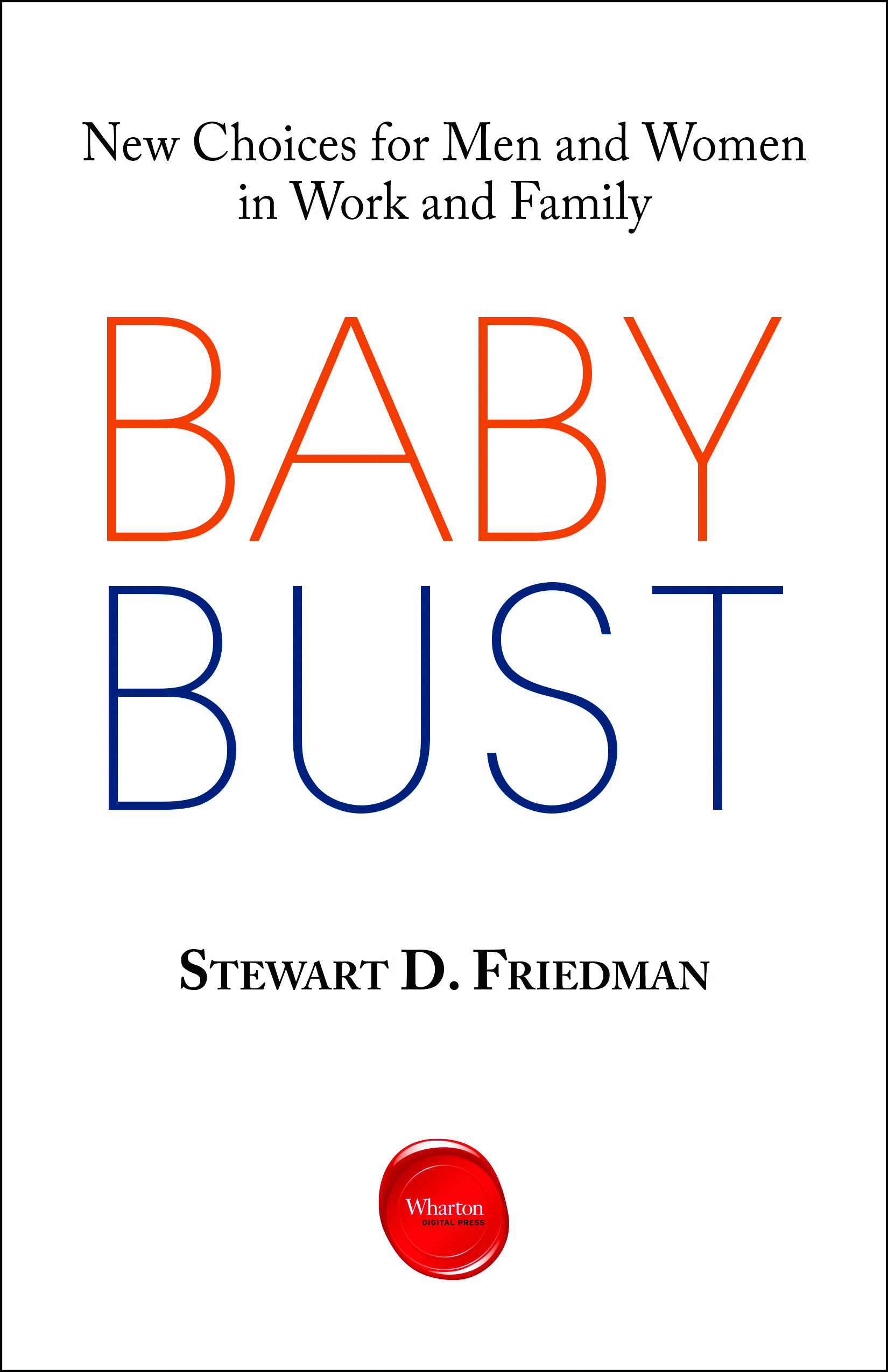 Baby Bust addresses:
How views about work and family have changed in the past 20 years
Why men and women have different reasons for opting out of parenthood
How family has been redefined
Why we are all now part of a revolution in work and family
What choices we face in our social and educational policy
How organizations and individuals – especially men – can spur cultural change
The book was featured in The New York Times Motherlode and Dealbook. For more media coverage click here. Here's what people are saying about the book:
Anne-Marie Slaughter, President and CEO, New America Foundation, said:
"What a wonderful book. Stew Friedman stands out as one of the few male voices in the field. He understands better than anyone else how leadership, life, and business can fit together. Baby Bust offers a fascinating glimpse into how young people think about their work, their families, and their futures. It's a succinct and invaluable read for managers, politicians, and all men and women seeking to better understand how the world is changing and to support greater freedom of choice."
Neil Blumenthal, Co-Founder and Co-CEO, Warby Parker said:
"Baby Bust, based on Stew  Friedman's new groundbreaking study, documents the tremendous progress men and women have made in integrating work and life. Friedman's insights and recommendations have generated thoughtful discussions in my household (two entrepreneurs with a young child). This is an essential read for business leaders who want to create an egalitarian workplace and contribute to the revolution in work and family choices."
Leslie A. Perlow, Konosuke Matsushita Professor of Leadership, Harvard Business School, and Author, Sleeping with Your Smartphone: How to Break the 24/7 Habit and Change the Way You Work, said:
"Important data and fascinating insights about the revolution we are experiencing in work and family. A must-read for anyone seeking to better understand how the world is changing and what new models will require."
Ellen Ernst Kossek, Basil S. Turner Professor of Management, Purdue University, Krannert School of Management and President of the Work and Family Researchers Network, said:
"Stew Friedman's Baby Bust is a wake-up call for business. The lack of strong business and public support for the positive enactment of caregiving, breadwinning, and career advancement has redefined what employees see as possible in their lives.  The future economic health and well-being of the U.S. may be at risk.  This eye-opening study raises the critical questions and provides practical ideas for change."
Brad Harrington, Executive Director, Boston College Center for Work and Family, said:
"Stew Friedman's unique cross-generational study finds both a triumphant new freedom for men and women and, at the same time, an indication of the deep conflicts between what we value and the lives to which we aspire. Baby Bust is a game-changing addition to the literature on work and family. Stew clearly and compassionately tells the story from the perspective of both men and women, echoing the challenges we all face as we seek to do meaningful work and have a meaningful life in today's frenetic and tumultuous world."
Total Leadership
2008 – Stewart D. Friedman
Total Leadership: Be a Better Leader, Have a Richer Life. Harvard Business Press.
Life is a zero-sum game, right?  The more we strive to win in one dimension (such as our work), the more we have to sacrifice performance and satisfaction in the other three dimensions (family, community, and private self).  Total Leadership: Be a Better Leader, Have a Richer Life, the culmination of decades of research and practice, details how we don't have to make trade-offs between life's most important domains, and certainly not as often as we think.   Nor should we.   A trade-off mindset makes people feel all manner of painful emotions—including inauthentic, unfocused, rootless, resentful, and overwhelmed. It hurts those we care about most and it prevents us from leading and performing effectively in every part of life.
Total Leadership provides a blueprint for how to become a more successful and satisfied leader in all dimensions of life: work, home, community, and self (mind, body, and spirit). This proven, step-by-step "four-way wins" approach shows how to produce sustainable, meaningful change that benefits all life domains by:
Being real—acting with authenticity by clarifying what's important:  Understanding how crucial events in the past have shaped one's values and aspirations; assessing the relative importance of work, home, community, and self; taking stock of how much time and energy is invested in each of these four domains; and diagnosing one's level of satisfaction in each.
Being whole—acting with integrity by respecting the whole person:  Identifying the most important people in one's life and their performance expectations, determining how different expectations affect one another, assessing how one uses different media for connecting with these "key stakeholders," and preparing and conducting dialogues with each one to verify assumptions and see things through their eyes.
Being innovative—acting with creativity by experimenting with new solutions:  After seeing both what and who are important in a fresh light, designing and implementing small, smart, potent experiments that swiftly produce better results in all four parts of one's life and that transform alienation, exhaustion, and resentment into feelings of purpose, authenticity, connection, and optimism.
Based on research and real-world application in a variety of settings, this approach is rooted in sound principles and has been proven effective with thousands of people.  Participants report increases in satisfaction across the board: an average of 20 percent in their work lives, 28 percent in their home lives, 31 percent in their community lives, and 39 percent with their physical, emotional, intellectual, and spiritual well-being.  Similarly, participants report that their performance at work, at home, in their communities, and within themselves has improved by 9, 15, 12, and 25 percent, respectively.
These powerful results occur even as they spend less time on work and more on the other parts of life—they're working smarter and enjoying the benefits of more intelligent choices for bringing the different elements into a coherent whole, creating mutual value among them.  Total Leadership is not an abstract theory:  Practicing this method results in demonstrable improvements in performance and satisfaction.
Total Leadership has sold over 40K copies in English and:
Reached #3 on USA Today Business Bestseller list.
Won 800-CEO-READ Best Business Book Award, Personal Development category.
Translated into Chinese, Japanese, Portuguese, Polish and Russian.
Is in use as text for courses in undergraduate and graduate programs worldwide.
Was profiled in this New York Times article and in other media coverage.
Robert Reich, professor, University of California at Berkeley, former U.S. Secretary of Labor, and author, Supercapitalism, said:
In the future, being a leader will require new ways to integrate work with the rest of one's life, resulting in more effective leadership and a more fulfilling life. Total Leadership points the way.
Denise M. Rousseau, professor, Carnegie Mellon University, and author, I-deals: Idiosyncratic Deals Employees Bargain for Themselves, said:
Total Leadership is a rich and satisfying call to action. Tapping into his innovative work in executive education and work/family research, Friedman teaches us how to create productive work settings that also enable satisfying personal and family lives.
Timothy Ferriss, author, The 4-Hour Workweek, said:
In a world of work-life trade-offs, Stew Friedman offers what most think impossible: a field-tested program that gives you not only what you want in business, but also what you want in life. Brilliant!
From the Human Resources Management book review:
Total Leadership presents three essential qualities that impressed me as a scholar and encouraged me to use it in my teaching: it is highly innovative, pedagogical and inspiring. The book innovates insofar that it combines the largely masculine field of leadership studies with the largely feminine field of work-life, rejuvenating both…Friedman's innovations bridge the leadership and work-life fields, while mastering both of them……draws on decades of work-life research to emphasize that harmonizing the domains of one's life is not only about time, but also about psychological interference and boundaries management……offers a very brief and crystal-clear history of the fields it builds upon and explains complex work-life concepts such as flexible and permeable boundaries in a simple manner……is vibrant and inspiring. My students named it their most liked and most useful reading; they mentioned it in virtually all their assignments…is also inspiring by its scholarly ambition. Although leadership and work-life are the most salient fields of studies the books draws upon, Friedman also draws on human capital, organizational change and negotiation research. By doing so, he provides an effective framework and approach to improve participants' productivity and satisfaction through gradual and focused experiments. 
Work and Family — Allies or Enemies?
2000 – Stewart D. Friedman and Jeffrey Greenhaus
Work and Family — Allies or Enemies? What Happens When Business Professionals Confront Life Choices.  Oxford University Press, 2000.
The book was based on data collected in the 1990's by the Wharton Work/Life Integration Project's study of Wharton alumni and a parallel study at Drexel University by Jeff Greenhaus and Saroj Parasuraman.  It was written for a broad audience and was well-received in numerous journals. This readable research-based story about the lives and careers of over 800 business professionals found: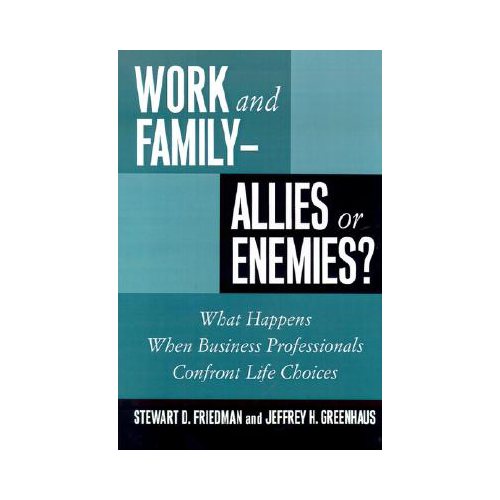 We can have (much of) it all, but it's especially tough for working mothers.
Work and family can be allies.
Time is not the major problem.
Authority on the job is essential for work-family integration.
Women may be better adapted for the jobs of the future.
Kids are the unseen stakeholders at work.
The book describes what the literature and our data showed about the dilemmas of integrating work and personal life and addresses what employees, their organizations, families, and our society can do to develop creative means for handling these challenges.
For more details and a sampling of reviews: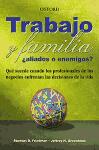 The Wharton Resource Guide
1998 – Editors, Stewart D. Friedman, Jessica DeGroot, Perry Christensen.
Integrating Work and life: The Wharton Resource Guide. Jossey-Bass/Pfeiffer.
Based on the first three roundtable conferences, Stew Friedman, Jessica DeGroot and Perry Christensen compiled and edited the first collection of teaching materials on integrating work and the rest of life, Integrating Work and Life: The Wharton Resource Guide. Jossey-Bass/Pfeiffer.
The book includes educational resources to:
Enhance workplace satisfaction
Improve productivity
Boost commitment
Aid recruitment efforts
Reduce absenteeism and turnover
It helps employees and employers learn to:
Clarify life priorities and examine choices
Communicate clear vision, goals, and performance expectations
Act in a way that is consistent with their values
Create trust, goodwill, and common ground
Value what employees bring to the business from their multiple life roles
Question assumptions and encourage creative experimentation in the way work is done