Contributor: Morgan Motzel
Work and Life is a radio program hosted by Stew Friedman, director of the Wharton Work/Life Integration Project, on Sirius XM's Channel 111, Business Radio Powered by The Wharton School. Every Tuesday at 7:00 PM EST, Stew speaks with everyday people and the world's leading experts about creating harmony among work, home, community and the private self (mind, body and spirit).
On Work and Life, Stew Friedman spoke with Eric Greitens, former Navy SEAL and Purple Heart recipient, CEO of the Greitens Group, and author of the memoir The Heart and the Fist, about his not-for-profit The Mission Continues, which empowers returning veterans of foreign wars to continue to serve in their home communities.
Stew Friedman: Eric, you are the youngest of the six people that I profiled in my new book, Leading the Life You Want: Skills for Integrating Work and Life. The oldest, by the way, is Bruce Springsteen, so you two guys anchored the age scale. But you've truly lived a number of lives in the time you've lived on this beautiful earth: you've been a Rhodes Scholar, a humanitarian worker, a Navy Seal, and the founder of a very important and successful not-for-profit about which you wrote in your memoir, The Heart and the Fist.
Let me ask you about the moments that were of particular interest to me. You were a boxer and a humanitarian worker back in the 90s. What did you learn from those experiences that served you well in your service in the military and in your founding of The Mission Continues?
Eric Greitens: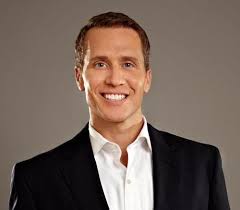 I've truly learned a lot from both of those experiences. I started boxing when I was at Duke University—college kid going down to a gym in the inner city there in North Carolina. What was fun for me was that I had this great boxing coach named Earl Blair. Earl Blair had grown up in the Depression, served in the military at the tail end of World War II, and was working in a warehouse when he was coaching me. His real passion, though, was teaching boxing, and he was really teaching life at night to a bunch of kids who really needed it in this gym in the inner city. One of the things that Earl always said to me when I was boxing was to "watch Derek." Derek was one of my training partners—he was about 26 years old, a professional fighter, and a construction worker. Every time I'd step up to the heavy bags, to the speed bags, to the jump rope, Earl would always say, "Watch Derek."
The lesson that Earl knew was that we learn best when we actually have models in front of us. He understood that it's really hard for us to learn any new skill on our own, but when we have a model whom we can imitate and emulate, it helps us learn much more quickly. Now what was fun for me was that I'd be doing this down in the boxing gym, and then I'd be back on campus later reading Aristotle, who says, "You will know what the good thing is by seeing what the good person does." So I had Aristotle and my boxing coach Earl Blair both saying the same thing.
The lesson I've taken from that, which certainly we use in the work we do at The Mission Continues with returning veterans, is that oftentimes, especially when things are hard, especially when people are facing a place of pain, hardship, and difficulty, they need to have a model in front of them for how to get through it.
In practice, what we do at The Mission Continues is, if we have a group of 100 veterans coming together from Afghanistan and Iraq, and we're at the end of our opening weekend, we will make sure that over the course of the weekend they will hear from a veteran who's dealt with and overcome severe post-traumatic stress disorder. They'll see and hear the story of a veteran who might have lost his eyesight, lost a limb, or been severely burned. They'll talk to people who had trouble integrating with their family when they came back, people who struggled financially or who struggled to set up or find private sector employment. By seeing these models of people who have successfully made it through hardship, people begin to see how they can do this again in their own lives. I think that was one of the things I learned from Earl that we use in the work that we do today. I think we always have to make sure, no matter what age we are, that we have models to emulate.
SF: This is a fantastic example of one of the skills that I really hone in on in your story. For each of the six people I analyzed, I wanted to see what are the skills that these great leaders and people of significance have cultivated to lead the lives they truly want and go out and serve others with their talents and passions. The one that you're referring to here, Eric, is this notion of applying all your resources, which means taking what you've learned or somehow gathered in one part of your life and applying it in others. Learning the value of models, even 20 years ago, is something that you're now bringing to bear in making The Mission Continues even more powerful. It's just one example of many that is illustrated in your story, and it's a great one. Taking the lessons of experience from wherever you get them—whether it's a ratty gym in the inner city of Durham or on the fields of battle—and then using them later in life by harvesting those skills and applying them, which you did so well.
There are other things that you've learned, especially in your humanitarian efforts, about how people survive in the most challenging and even horrific circumstances. Can you talk about that?
EG: My first real experience of doing hard humanitarian work overseas was in Bosnia in 1994. As people will remember, this was during the horrible campaigns of ethnic cleansing in Bosnia. I was 20 years old at the time, and I was living and working in refugee camps. I remember I'd see people step off of these busses into the refugee camps, and they were literally carrying everything that they owned. They'd lost their homes, they'd lost their clothing, and they'd lost every material possession. Many of them had also lost friends and had lost family. If somebody listening right now thinks about that—what it would be like right now to lose everything you own and step. What I saw that was interesting in the refugee camps was that oftentimes the people who were doing best in the camp were the parents and grandparents who had really young kids. The people who were oftentimes struggling the most were the people who were my age at the time, older teenagers or young adults. They felt like their lives had been cut short, but they didn't really feel like they had any purpose to serve.
SF: Because they had no dependents? There was nobody counting on them?
EG: Exactly. The parents and the grandparents knew that every single day they had to get up and be strong because their kid was counting on them. That lesson, again, is something we took to the work we do at The Mission Continues, and I think it is a lesson for all of us. When things are really hard, when we're really struggling in a situation of pain and hardship, it's really natural and can be really easy to turn in on ourselves. What we often need to do is to remember the fact that there are other people counting on us to be strong. When we have a sense of purpose that is larger than ourselves, and when we remember that other people need our strength and what we have to offer, it often helps us to make it through those difficult situations as well.
SF: That is the ultimate theme that I drew from writing these six biographies. I looked back and thought, well, that's it! Each and every one of the people that I wrote about, including you, has found a way to use their particular skills and passions and converted that to value to others. I think that is how you lead the life you want—you get the strength of confidence to progress through life, through all its disappointments and tragedies, by having this mindset of "Where can I serve?" and "How can I be of value?"
EG: One of the nice things I picked out from the book when reading about Bruce Springsteen is where you talk about how he embodies values consistently and creates this culture of innovation. It's this idea that there are specific skills that people can pull on, build, and develop, and I think your book is a whole series of models about how people can learn from others to build the life they want.
SF: Another one of the skills I thought was so powerfully illustrated in your story was this notion of holding yourself accountable. Your story, to me, is such a wonderful example of doing that when you realized that compassion and charitable works were not enough, and that, when there are bad guys out there, they must be stopped through physical means. Can you talk about how you came to that realization and what it meant for you to make the decision to hold yourself accountable for what was emerging as your understanding of what your core values really were?
EG: I remember when I was a young kid, I wanted to make a difference. In the cleansing in Bosnia and in the genocide in Rwanda where over 800,000 to one million people had been killed, I remember talking to a number of refugees, and they all said some version of, "Listen, we really appreciate that you're here, and we're glad that there is a roof over our head, and we really deeply appreciate the fact that there's food for our families to eat. You've even set up places for refugee kids to go to school…" But what was also really clear, and in fact, one guy in Bosnia said this to me: "If people really cared about us, they'd also be willing to protect us."
I didn't know what to say to him at the time, but I thought about what he said later, and I realized that what he said was true. If we really care about something, then we're willing to respond not only with compassion, but we're also willing to respond with courage. We're willing to protect those things we care about. For me, at the time I was doing a lot of this work, I was a graduate student. I was talking a lot, I was thinking a lot, and that was all important. But I also felt very strongly that if I was going to hold myself accountable, if I was going to live my values, I also had to find a way to be willing to protect others. That led me to think about joining the US military and ultimately the SEAL teams.
SF: What was the internal struggle there to come to that decision? In terms of being willing to make that kind of change and sacrifice in your everyday life?
EG: One of the things that happens in life is that we all want good things. I was 26 years old, and I joined the military relatively late. At the time, I was finishing a PhD, and I was in a very comfortable place where I had an offer to stay in a university and continue to teach, and I knew that would have been valuable and meaningful work. I had an opportunity to go to a consulting firm which offered to pay me more money than both of my parents had ever made in any one year period, and I also had this offer from the United States Navy where they said, "We'll pay you $1,332.60 per month." They said, "The deal is if you sign up on the dotted line, then you're going to owe us eight years. In return for that, we'll give you one and only one chance at basic underwater demolition sea training. If you make it through, you'll be on your way to being a Navy SEAL, but if you don't, you're still going to owe us eight years." It's not actually a really great recruiting pitch from the Navy. [Laughs].
But I remember as I was thinking about all of these options, there was actually a moment when I walked into this place on the University of Oxford campus called Rhodes House, and I looked up and saw these names etched in the marble of the Rotunda where you walked into the building. I didn't know what those names were, so I asked somebody later, and it turned out those were the names of students who had left school in World War I and World War II and who had fought and died overseas.
It's a really powerful reminder. It was a reminder for me, and it was a reminder, I think, for everybody who walks through those doors that our lives are only possible because people before us had been willing to serve and willing to sacrifice. And for me, at that moment, I thought about what you write in your book a lot about how we have to hold ourselves accountable. When I looked up at those names, I thought that I had to take advantage of this opportunity to serve and that I had to find a way to contribute, and again, that's what led me there.
SF: So that was the turning point, seeing those names on the wall?
EG: It was a really important moment, yes.
SF: You also told me in our conversations for the book that, even as a kid, you had kind of fantastical ideas about wanting to be in a historical moment where you did something important.
EG: Yes, absolutely. I remember as a kid actually reading these books in my local public library—I'd hang out in a little corner and read—and I remember worrying that all of the great battles had already been fought. All of the important things had already been done, and all of these new lands had been discovered. I wondered, What can I do? What can we do? I think, for all of us, if we're going to build our vocation and really build our sense of purpose, we're going to have to find ways to embrace our own time and the challenges that we have in front of us. Thinking like that led me to go to Bosnia and Rwanda and start this journey where I joined the SEAL teams and started The Mission Continues. I wouldn't have been able to anticipate any of that when I was a kid, but the journey has been a good one.
SF: So how do you teach that idea? How do you convey it to young people or the people you work with through The Mission Continues—this notion of finding that connection to what you really care about, what you stand for, what you're willing to die for, and to move in that direction? I think that's an issue that many people face, and learning to hold yourself accountable is a skill that's not easy to hone and develop. It's easy to slip.
EG: It is incredibly easy to slip, and I think that one of the things we have to do is to get rid of this notion that you can find your purpose. I often tell people you can't find your purpose because your purpose isn't lost. It's not like it's sitting out there somewhere waiting for you to find it. When you look at the lives of people who have really lived full and harmonious lives, as you talk about, Stew, you find that it is a process of creation. Often what we have to do is to throw ourselves into things, not knowing exactly where they're going to take us. For me, it was throwing myself into boxing when I was at Duke and throwing myself into the study of philosophy. When you really dive in, it's actually in that experience of pushing yourself, of challenging yourself, of having the right mentors, of being a part of the right teams—that's where you really build that passion and create it, actually in the process of doing the work itself.
SF: Some people think of that as education. You explore new avenues for bringing your talents, your ideas, your passions to whatever circumstances are available to you, and you discover along the way, but you need help with that, right? Your story is such a great one in illustrating how you drew on the support of many mentors throughout your life and career. You wouldn't be where you are now if not for Earl Blair, I would venture to say.
EG: I wouldn't be where I am without Earl Blair, Barb Osburg, my high school English teacher, Bruce Carl, my Leadership St. Louis mentor when I was a teenager, so many great professors at Duke University, and so many good friends. I think that if we have the humility to recognize that everyone has something to teach us, then we can go out into the world and find ways to learn from our peers, learn from our fellow students, learn from colleagues, and really make everyone a teacher for us.
SF:  There's an important caveat in that statement, and that is "if you have the humility." You learned that somehow—probably your parents taught it to you or maybe you picked it up somewhere else. How do you coach people, especially young people, to understand the importance of learning from the world around them, and especially learning from people who have been around for a while?
EG: One of the things I think we have to do is to structure activities for young people where they are, in fact, learning from mentors. Too often today when we think about education, we only think about kids learning information. There's an aspect of education in the sense that they're going to learn information, but there's also an important aspect of cultural training, and this comes from coaches, and it comes from mentors. I think it's really important for young people to be engaged in these kinds of activities where they can learn from a mentor.
In fact, it's important not just for kids, but for all of us to do that. I found it's important for me to do it at my age. For example, I just started Taekwondo a couple of years ago. One of the great things about that is that I got to a place in my life where I was the CEO of my own company, I was running The Mission Continues, and I was writing books, but it's really important in my life, and I think maybe for others as well, to always be at a place where you're learning. It's about learning wherever you are, and it's about building a life so that in an aspect of your life you're always learning from people around you. I think that spirit of always being the student, at least in part of your life, is really important, especially as we get into positions of more and more power and prominence where we're leaders in companies and leaders in families. If we have that place where we're also always students, it reminds us to stay humble and to keep learning.
SF: Eric, let me ask you just one more question. You've recently become a father. Can you give us a brief insight into how that's changed your perspective on leading the life you want?
EG: I am so excited Joshua arrived just eleven weeks ago. It's been a mind-blowingly wonderful experience. One thing that parenting does do for sure—and other people have said this—is that it gives you a sense of your own mortality. I'm excited for the life that Joshua's going to lead, and we, as parents, really want to think about what's going to be lasting and what our legacy is going to be.
Eric Greitens is the founder of The Mission Continues, a not-for-profit that helps returning veterans continue to serve in their home communities, and the CEO of The Greitens Group.  He is also the author of The Heart and The Fist and a former Navy Seal and Purple Heart recipient. For information on his new book coming out in March, Resilience: Hard-Won Wisdom for Living a Better Life and more,visit him online at www.ericgreitens.com, or follow him on Twitter @EricGreitens.
Join Work and Life next Tuesday at 7 pm on Sirius XM Channel 111.  Visit Work and Life for a full schedule of future guests.
ABOUT THE AUTHOR
Morgan Motzel is an undergraduate senior in the Huntsman Program in International Studies and Business at Penn focusing on Management and Latin America.