Contributor: Andrea Yeh
Work and Life is a radio program hosted by Stew Friedman, director of the Wharton Work/Life Integration Project, on Sirius XM's Channel 111, Business Radio Powered by Wharton. Every Tuesday at 7 pm EST, Stew speaks with everyday people and the world's leading experts about creating harmony among work, home, community, and the private self (mind, body, and spirit).
On Work and Life, Stew Friedman spoke with current Wharton MBA students Dan Geoffrion and Josh Johnson about how Millennials plan to integrate work and life after they graduate.  Dan Geoffrion is a Yale graduate and former BCG consultant focusing on healthcare.  He is the head of Wharton's Christian fellowship.  Josh Johnson is from Harlem and graduated from the University of Michigan.  At Wharton, he is deeply involved in social initiatives and serves as co-director of community service and social impact for the Wharton Graduate Association and as community service co-chair of the African American MBA Association.  Both are members of 22s, the inaugural group of male allies of Wharton Women in Business.
The following are edited excerpts of their conversation.
Stew Friedman: Dan, let me start with you.  You are the head of the Wharton Christian Fellowship.  I imagine that those who are consciously and deliberately considering their inner lives while pursuing a business degree might have a more holistic view of business, so I wonder if you've seen a difference between those in your club and other religiously-affiliated organizations versus those who are not so affiliated in terms of how they approach these kinds of questions.
Dan Geoffrion:
I think that at Wharton, so many people really want to find meaning in their work and have a full life.  For me to say that just one group of people is focusing on it more than others seems a little too simplistic, but it is true that every week in our small groups we think about how we can live lives that have meaning and purpose, not just about doing good on the weekends or sending money to a charity, but asking, What does that mean for my career choice?  What does that mean for the ways that I interact with my coworkers?  What does that mean with respect to what I pursue and what I prioritize at Wharton?  For many people with religious backgrounds – and I know especially those in the Christian Fellowship –we really want to understand what the intersection of faith and work is, and what that means in our lives in a practical way.
SF: So you talk on a weekly basis about why being kind to your fellow employees is an important part of how you want to represent yourself as a business leader?
DG: You can think about it in a lot of different ways: What does being a kind person who loves his neighbor look like in a work situation?  How does that serve you professionally, and how does that help you be a better employee?  But also how does that hinder you?  Maybe you're not as focused on productivity in the way that someone who is single-mindedly focused on just their work product is.
SF: You think so?
DG: I think it can go either way.  In Adam Grant's book Give and Take, you find that the givers are both the best producers but also the worst producers – they're much more extreme either way.  You don't find a lot of them in the middle.  So if we are people who are very kind and considerate and who are making good connections and who are really trying to take in the greatest number of perspectives, we can be some of the best employees.  At the same time, someone might be a really nice person who listens to people's problems throughout the day, but then doesn't do any of their own work!  That's a major liability, and that's not really using our work and our gifts to serve others in the way we might want to.
SF:  So you can't be a doormat, to use Adam Grant's terms.  And you've got to be able to ask for what you need help with, especially when you're asking for help in the service of other people.  That way others are going to know why they should help you.  Now Josh, you're a married student.
Josh Johnson:
Yes, I am – happily and proudly.
SF: Happily and proudly?  Proudly – what does it mean to be married and proud?
JJ: Well, I'm still basking in the rose-colored glow of newly-wed-ism.
SF: How long has it been?
JJ: A year and two months.  We got married two days before I started my Wharton MBA.
SF: Yikes.  So Wharton is like your honeymoon.
JJ: Pretty much, pretty much.  I guess you could say that.
We relocated here for the MBA experience, and it's really been interesting growing in our marriage and growing in our relationship as a couple, and at the same time I am kind of growing in this experience of being a Wharton MBA.
SF: So she's not a student here?
JJ: No, she's not.  My wife works for a local not-for-profit here in Philadelphia, so while she is working during the day, I am studying during the day.  There's always this tension between the time that she has off after work because the student's day doesn't necessarily end at 5.  There are extracurricular meetings, academic meetings, and lots of different requirements you have to fulfill, so there's always that tension of us maintaining the sanctity and growth in our relationship while at the same time satisfying the two different career tracks that we're on.
SF: So how do you do that, Josh?  What are you learning about that that you can transfer into the world beyond school?
JJ:  I am very, very, very protective of my time, especially on Sundays.  My wife and I are also members of the Wharton Christian Students Association, so Sundays are our day to go to worship service, have brunch, and have family time.  My wife works with children, and anyone who's ever worked with children knows that their time is in flux when the children have needs.  So Monday through Saturday, both of us are kind of running around.  We see each other usually later in the evening when we're done with the day or done with our requirements, and Sunday is usually the only day that we have to spend time together.  The learning that I've had from this is that you have to be fiercely protective of the time that you have given the priorities that you hold dear.  For me, my wife, our relationship, and our marriage are priorities, so I don't do any schoolwork, meet, or do phone calls on Sundays. That's my red line, so I will stay up late or travel down to Center City to meet on a weekday to keep that time sacrosanct.
SF: And that's something that you think you'll be able to carry forward into the next phase of your career working in a company, assuming that's what you're going to be doing?
JJ: I don't necessarily think that exact structure will hold.  Maybe the day is not a Sunday; maybe it's a Saturday.  Maybe it's not necessarily that one day, but one time of day.  But the overarching theme is that you have to erect hedges around the time that is allocated to the things that you prioritize.
SF: That's for sure, because I guarantee you nobody's going to do that for you.  That's something that you must do for yourself and do in a way that's going to work for the people around you.  So having that boundary and keeping that time and space sacred helps you to be a more productive employee, I would argue.  Would you agree, Dan?
DG: Absolutely.  I, too, sort of keep Sabbath and don't work on Sundays.  When I was working as a management consultant, I typically worked all the time, but I was able to tell my team that I was off Sundays during the day, and that allowed me to recharge, refresh, and renew so that by the time the workweek started, I was really able to dig right in and ready to work hard.
SF:  So how did that work out for you, in terms of your team and how they responded to that?
DG:  It worked out well.  BCG wants you to have as much sustainability as you can in the very intense environment.  Like Josh, I worked hard during the week, and because I was open about it, they were able to be very flexible to my needs.  They knew that Monday through Thursday, I was theirs, but then during the weekends, as much as possible, I was able to recharge.
SF: So as you're thinking about the next steps in your life after graduation and beyond, what are you considering?  How does what you're thinking about match with what's out there in terms of the employers that are attractive to you, Josh?
JJ: Well, the second overarching theme I have in my life is that if I'm not really passionate about something, I wouldn't put myself in the position to do it.  My real passion is helping people.  That's the common theme of all that I'm involved in here at Wharton. I'll be rejoining McKinsey and Company after graduation.
SF: How do you think your needs and interests as a person beyond work are going to be seen – either embraced, rejected, or somewhere in between – by your colleagues at McKinsey?
JJ: I think that those things would be embraced.  That was the experience that I had over the summer.  There was always someone to talk to about any kind of interest that I had in any part of my life, from my marriage to different professional arenas.
SF: How about you, Dan?
DG: I had somewhat of a different experience.  While management consulting was a great job for a few years before business school, I knew that in the long term I couldn't live the holistic kind of life that I wanted to in the consulting world.  I looked at the lives of the partners.  I saw how much they traveled and how they were working even on weekends and flipping through all of the presentations that people made for them offering comments all throughout the weekend.  I know that I really want to be involved in my future family, and I'll also really want to be involved in the community around me, so I chose a firm that I think is going to be a much better fit.  I'm going to work for Medtronic after I graduate, one of the largest medical device companies in the world.  There, they have a really good culture in terms of work-life balance.  They also have a very mission-oriented culture, in that their mission is extending life, alleviating pain, and restoring health. Not only do they do that through all of their products, but there are also a lot of volunteer opportunities and a very generous matching program.  They see you as the worker but also a community member, family member, and someone who has an interest outside work.  That's what I prioritized when looking for an internship, and I was able to receive an offer and will go back full-time after I graduate.
SF: Congratulations. Josh, what do you think about what Dan is saying about the life of the consulting partner?
JJ:  I think that we all have different objectives and different things that we prioritize.  I've had conversations about this with my wife – and she really has the keys to the kingdom with this – because, like I said, the first priority that I have is to be present in my family's life as much as I should be and want to be.
SF: And as much as she wants you to be.  At some point, she may want you around more.
JJ: Well at that point we'd have to reevaluate whether or not I should be a management consultant and how the way that my current workload or the frequency with which I travel is affecting our marriage and what adjustments could be made to accommodate those things.  What's going on in the opportunities that we have right now is not going to be same as those that are going to be there two, three, or five years from now.  So I think it's constantly a process of reevaluation.
SF: It really is.  Certainly people I know have been successful at living full and well-integrated lives that enable them to be successful not just at work, and not just at home, but in the community too and also for themselves in mind, body, and spirit.  It's a constant quest toward understanding what matters most for me, to the people around me, and then adjusting, adjusting, and adjusting, so that you can better serve those people who matter most to you while being true to yourself.  As I said earlier, nobody gives you that, and it's something that you have to claim in a way that others see as valuable for them.
So you've both made choices about where you're headed after graduation.  As you talk to your classmates and hear what they're saying about how they are experiencing the labor market that they're entering, what's your take on how they're addressing questions such as, "How do you be a whole person?" or "How do you contribute to the world in a meaningful way coming out of place like Wharton?"
DG: I hear them say that it's something that's really important to them when they're a first-year and thinking about internships – making an impact, serving the world, or doing something meaningful.  But then it turns out that a lot of the firms that they feel like do that are not able to sponsor visas for international students, or they don't recruit with seven different wine-and-dine events, or they just don't hire a large number of Wharton MBAs. These are firms that people think about less, and they're also much harder to find.  So flash forward to a year and a half later, and you have a lot of consultants and bankers.  Some of them see that as in line with their long-term vision to serve the world, and others don't even mention it anymore.  They say, "Oh, it's going to be really great training for a couple of years, and then I'll think about all of those questions after I get to a certain level or a certain promotion."  I see it making an impact as having a lot less significance to people as they actually get an offer and see the compensation or travel opportunities of the more lucrative jobs.
SF: Are people selling out?  That's what it sounds like.
DG:  It does sound like that, but I think how they see it is that they're borrowing time.  They're just saying, "I don't actually know what in the world that I really want to impact yet, so hopefully if I do this meaningful job where I gain great skills, I'll be able to answer that question down the road."  So I don't think people see it as selling out for the rest of their career.  They see it as making an investment that's going to help them do that kind of work later on, but then they don't actually have tools or a way to call a timeout two years down the road and ask themselves, Now what?  They just get into the grind, and then the people around them say that what they need to do now is to get to their next level of promotion.
SF: It's running around the hamster wheel, then.
DG: Exactly.
SF: So what you're doing with your Christian Fellowship is that you're asking questions about how you weave together the different things that are meaningful to you now, and I think that's smart because the further along you get, the harder it is for you to step off.  Josh, what are you hearing in the hallways here in Huntsman Hall and elsewhere around campus about how your classmates are thinking about their future?
JJ: It's hard to generalize across the entire student body, but the conversations that I've been having have largely been with people who are thinking, What investment am I making now toward the kind of impact that I want to have later on in life?  Maybe that's not as clearly defined, to Dan's point, as being able to say, "Well, I want to really heavily impact the education space in the United States."  Or say maybe they want to tackle homelessness or whatever the specific cause that's very close to their heart is. I see it more as people wanting to be strategic and trying to position themselves to maximize their impact.
One of the many hats that I wear is the WGA's internal co-lead for community service and social impact.  One of the things that we did this year was to survey the Wharton MBA Class of 2015 and 2016 and try to identify the biggest areas that are meaningful to them in terms of volunteerism and social impact.  We found that people have a real passion for tutoring and mentorship and taking these analytical skills that they're learning as MBAs and then using them to magnify the impact that they have.  I think that resonates with the other side of the argument that Dan's talking about where students are still going into consulting and banking, these very traditional and not necessarily social impact-focused professions, on the front side.
SF: Are they going to be able to have the kind of positive social impact that they want to have when they get onto Wall Street?
JJ: I think that if you're looking at it from the standpoint of whether they are going to be able to be in a soup kitchen, maybe not, depending on what they're doing on Wall Street.  But they might be able to lead a foundation or sit on the board of a not-for-profit and magnify their impact.
SF: So you think those values are going to continue forward?
JJ: I think so.
SF: Are you hopeful about the future, Dan?  What do you hope to see?  What's the big idea of how you'd like to see organizations change?
DG: I want to see organizations be better able to utilize the holistic part of who a person is – not only their work skills and their work abilities but also their community interests.   I want to see them figure out a way that they can structure jobs in a way that supports both of those.
SF: And what are you hoping to see, Josh?  As a business leader of the future, how are the great organizations going to look different down the road?
JJ: I think that the greatest organizations will find a way to embrace the whole person, so that there's not this tension between being a businessperson and being a father, a husband, a partner, or any of those things.  Once that person is comfortable and feels that all of those other priorities are also met, that frees them to be their most engaged self in their work because they're not worried about how that work is taking away from the other things that are equally important to them.
To learn more about the organizations Josh and Dan are involved with, follow Wharton Women in Business (WWIB) and the 22s on their WWIB's website or Twitter (@WWIB) and visit the Wharton Christian Fellowship's website
Join Work and Life next Tuesday at 7 pm on Sirius XM Channel 111.  Visit Work and Life for a full schedule of future guests.
About the Author
Andrea Yeh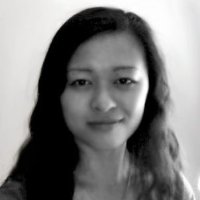 is an undergraduate junior majoring in Operations and Information Management and in International Relations.