Work and Life is a radio program hosted by Stew Friedman, director of the Wharton Work/Life Integration Project, on Sirius XM's Channel 111, Business Radio Powered by Wharton. Every Tuesday at 7 pm EST, Stew speaks with everyday people and the world's leading experts about creating harmony among work, home, community, and the private self (mind, body, and spirit).
On Work and Life, Stew Friedman spoke with current Wharton MBA students Rena Fried and Vivian Chung, a same-sex couple getting married this year. Rena is the co-President of Wharton Women in Business, following her employment at Business Council for Peace where she provided business consulting and training to entrepreneurs in Afghanistan and Rwanda. Prior to Wharton, Vivian spent 6 years working in principal investing and investment banking at the Macquarie Group and Goldman Sachs in New York. She currently serves on the Board of Directors of the National Queer Asian and Pacific Islander Alliance. Stew spoke with both women about the challenges facing the LGBT community in bringing their authentic selves to the workplace.
The following are edited excerpts of their conversation.
Stew Friedman: The issue of "being out for business" vs. "covering" at work is something the LGBT community has had to deal with for a long time, as I discussed with Kenji Yoshino and Christie Smith on a previous show. Norms are changing rapidly but there is a huge cost personally and in terms of productivity that comes with having to invest energy into figuring out how to navigate with a heavy mask on. Vivian, what did you see as the costs when you were "covering" or "closeted" at work in your career on Wall Street?
Vivian Chung: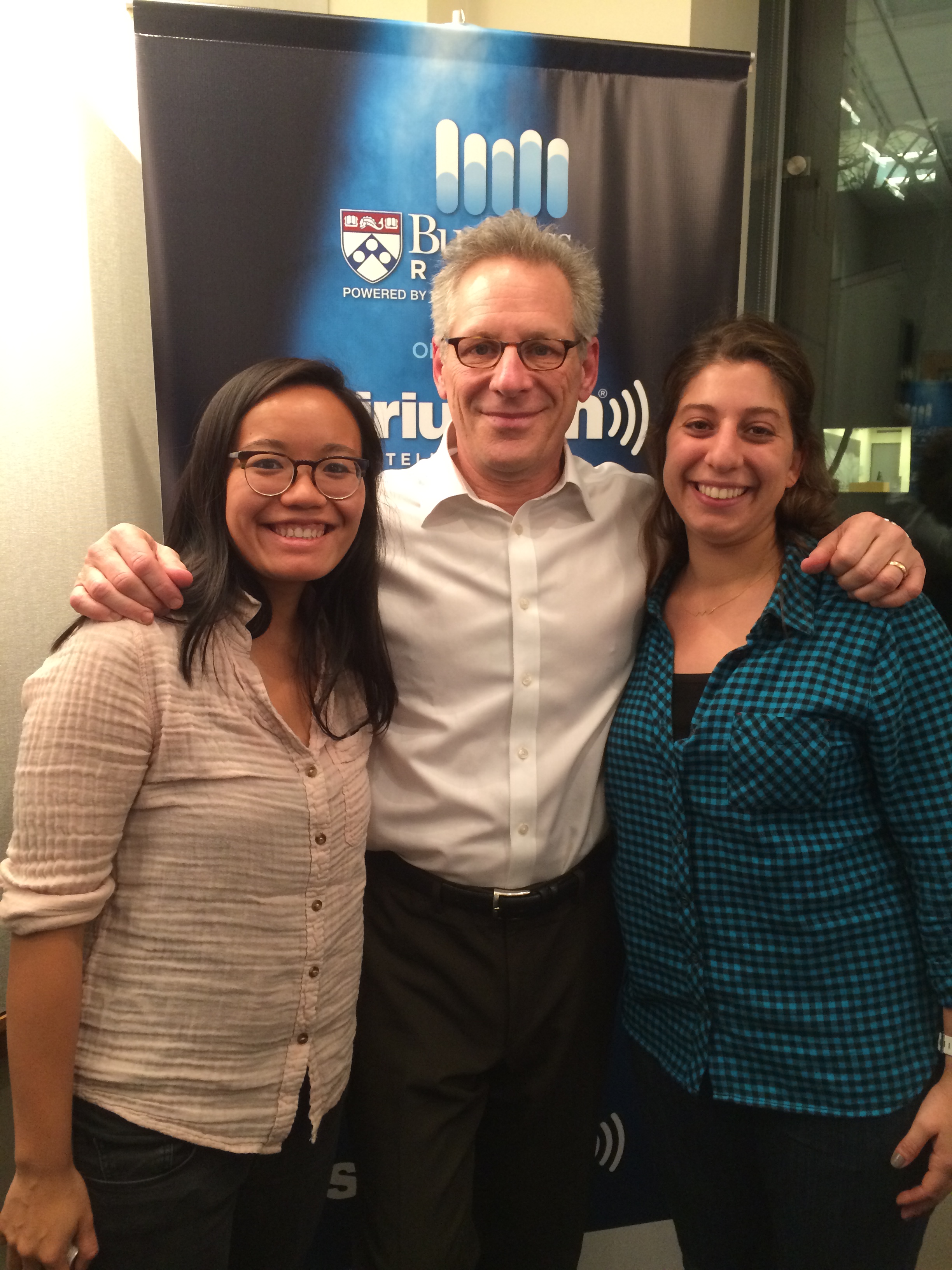 I think the main cost was not letting people understand what I was concerned about, what my interests were, and what I cared about. I spend a ton of my time working for LGBT communities in the non-profit space, but when I have to hide and say, "No, I have something later tonight," "I have to run now," and so on, people might think I'm wasting my time, getting my nails done, or going to the movies when really I am spending my time working on a cause I really care about. They don't really get to see that side of me. Or, for example, if it's my anniversary or Valentine's Day, and I have to go to dinner tonight at 8, my boss might be pissed because he or she doesn't understand why my leaving by 8 is so important. But I can't really say I need to leave because it's my second anniversary.
SF: So you had to cover.  Why should it matter to your boss that you had to come up with that excuse or find a way to make what you were doing seem urgent and normal?
VC: It's hard to say exactly where and who it hurts the most, but I think it does impact my career and in some way prevent my achievement. When I am closeted, people don't fully understand what I'm about, but they should understand what I'm about because they're paying me to work for them.
SF: There's also value that you are creating for them in the things that you do outside the office. A central idea in my work is how to capture value from one part of your life and bring it into another part of your life, so that what you do in your family, what you do in your community, and what you do in your private time can bring a positive impact in your business life. If you have to shut off all of that, then you can't really bring it into your business in terms of reputation, building networks, and understanding different kinds of markets. There is a very real business cost to the work of having to disguise yourself.
How and why did you decide to come out?
VC: It's a new time. If anyone googled me or looked on Facebook they'd easily see that I was on the board of several LGBT groups. Since the information was essentially public and since I realized that this really shouldn't matter or be an issue for any organization that I'd want to work for, I made the decision not to hide who I really am.
SF: How does being out now affect your job search and the interviewing process?
Rena Fried: We look at what policies and regulations they have in place. We want to be in a place that has equal health care. We're looking at living in San Francisco; California will recognize a marriage. And we look at culture, whether they have an LGBT Employee Resource Group (ERG), or, if it's a smaller place, then is it a place where people have photos of their partners on their desks or talk opening about being gay. And it's not just about LGBT issues, when I look at the Executive team, is it racially diverse, are there women in leadership? I wouldn't want to work in a place where there isn't diversity. I think that's core to the success of a business.
SF: And for you, Vivian?
VC: It plays a role in my wanting to leave finance and go into tech. It's friendlier.
SF: What can companies do? What are they doing?
VC: It's an attitude of acceptance of difference. At my summer internship at Amazon, for example, there were badges on the internal Facebook pages for "quirkiness" which sends the message that you can come to work as yourself.  It indicates and builds a culture that allows people to be different. Whereas on Wall Street the dress code, for instance, is strict and narrow.
SF: It sounds like this was a culture that not only accepted but encouraged people to be themselves. What about the Wharton culture in terms of its openness to variation and diversity?
RF: One of the reasons we chose to come to Wharton was because of the LGBT community.  Wharton has, by far and away, one of the largest LGBT communities and one of the most vocal communities.  And not just the number of people that are in "Out For Business" – our LGBT group – but also Wharton has many more queer women than the other schools.
VC: The group has about 800 people – which includes "allies" – so it's about half the school. Most in the group are allies, which means they support the LGBT community.  During Rainbow week we give everyone mini flags and it's exciting to walk into a classroom and see so many flags, to see so many people are accepting and welcoming and has a visible sign to say that this is a welcoming classroom.  Little signs like that make a real difference.  Companies can initiate small things like this too to create a climate of acceptance.
SF: Rena, what do you see as you look to the next five to ten years of change in the social environment of this nation and of the world in terms of a broader embrace of diversity with respect to sexual orientation?
RF: The repeal of DOMA (The Defense of Marriage Act) and nationwide legislative action on gay marriage have been great steps in the right direction which have been meaningful for us
VC: I agree that policies can change somewhat quickly, but minds don't change as quickly. There are a lot of prejudices that still exist, and I think it's going to take a long time for a fair amount of prejudice to undo itself.
SF: What can our listeners do to help speed up the process? What advice would you have?
RF: On a day-to-day basis, the best thing that helps me as an LGBT-identified person is when other people speak out when they hear something that's not right. Rather than leaving it to the LGBT person who is being targeted to speak up for themselves, folk who hear something discriminatory or rude or simply offensive could stand up and say this isn't right and why it's not right. That simple act can go a long way in reducing discrimination and prejudice.
To learn more about the leadership organizations Rena and Vivian are involved in, visit the websites of Wharton Women in Business and the National Queer Asian and Pacific Islander Alliance.
Join Work and Life next Tuesday at 7 pm on Sirius XM Channel 111.  Visit Work and Life for a full schedule of future guests.