Best Practices for Integrating
Work and the Rest of Life
In the early '90s the W/LIP began a search to discover how business schools can and should teach students about integrating work and the rest of life.  We convened a group of interested academics, public and private sector leaders, and advocates.  We found that there was not yet a coherent body of knowledge for us to teach, nor were there educational tools and materials for doing so.  We then set out to fill the gaps through research on best practices and on how to acquire and use them.
Over the next decade we developed knowledge for action about how individuals, managers, and senior executives integrate the different parts of life for mutual gain and what the public and private sectors can do to improve the care of children of working parents.  The New York Times and the Wall Street Journal, in numerous articles, reported on our activities.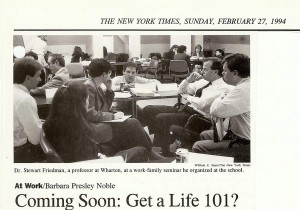 We applied what we were learning to the MBA curriculum by adding relevant content to Wharton courses.  And this work resulted in a number of publications that have had impact on both scholarship and practice, including:
The Wharton Resource Guide
A seminal collection of instructional guides for educational initiatives about work/life integration, Integrating Work and Life: The Wharton Resource Guide (Jossey-Bass/Pfeiffer, 1998); the first to provide tools for educators in the work/life field.
The End of the Zero-Sum Game
The widely-cited 1998 Harvard Business Review article, "Work and life: the end of the zero-sum game," which described strategies managers should use to support the integration of their employees' work and personal lives in order to enhance productivity and improve life quality.
The "Happy Workaholic"
Materials from our fourth gathering, which focused on how senior executives can create work environments that enable employees' integration of work and personal lives by modeling not balance, in the traditional sense of equal involvement in various life domains, but rather, what we referred to as authenticity – the alignment of one's actions and values.  "The Happy Workaholic: a role model for employees " in the Academy of Management Executive (2003) was based on the output of this field research and conference, as was the production of four case studies published in the International Journal of Leadership Education, which appeared on the Aspen Institute's Web site and have been downloaded by hundreds of educators and researchers.
Caring for the Young children of Working Parents
Publications from our conference on Caring for the Young Children of Working Parents: A Call for Private and Public Sector Leadership, including a co-authored report, a version of which appeared in the Financial Times, by Stew Friedman and  Ellen Galinsky, president of the Families and Work Institute, on "Private sector initiatives in caring for the young children of working parents."
To date we have organized five conferences, all of which have been informed by research on best practices conducted by conference attendees.